Don't Miss our May 14th Urban Tellers®

Dear Friend of PST,

Good company. Good jazz. Good stories! Enjoy an evening with our latest group of Urban Tellers®, happening on Saturday, May 14th at the Alberta Abbey, located at 126 NE Alberta (two block wes tof MLK). You can buy advance tickets for only $15 and we're also setting aside some tickets at the door for walk-ups ($18 cash, debit, visa). Plus we are proud members of the Arts for All PDX program which gives holders of the Oregon Trail Card a chance to buy tickets for $5, either in advance or at the door! Come early when the doors open at 7 pm so you can hear some live jazz by Bamberger - Engel - Hines - Eave, mingle with the storytellers, buy a raffle ticket, and enjoy a Ninaksi or have a glass of wine (21+). This month's Urban Tellers® show features Donna Zerner, Brad Clark, Gillian Summers, Jim Fairchild, and Sami Auclair with stories about finding your light after an initiation into darkness, loving your dad's boyfriend, and conjuring the courage to cope with MS. Hosted by Lawrence Howard and Lynne Duddy.
---
Be A Winner!
Thanks to our generous sponsors, you could win a gift certificate from our friends at The Naked Sheep Knit Shop, dinner and drinks at the fabulous ¿Por Que No? or a delicious pie from the best pie place in town Pacific Pie. Get your raffle tickets at the show! Only $5 a chance or 5 for $20

---
One-Day Workshop
There's only a few spots left in Portland Story Theater's

Storytelling Bootcamp

,

a one-day (7.5 hour) intensive, where you will create new story material, learn about narrative structure and intentional storytelling techniques, and have a chance to share your stories while getting individual feedback. No performance. The next session takes place on

Sunday, June 26 from 10:30 am-6 pm in Portland at the Home Studio of Portland Story Theater. Cost $150. Preregistration required

.
---
Road Trip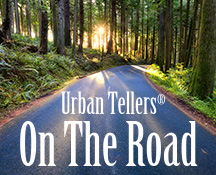 We're taking our Urban Tellers® shows and Storytelling Starter workshops on the road! Through the generous support of the Autzen, Miller, and Kinsman foundations, we are bringing our unique brand of storytelling to underserved and rural areas throughout the state of Oregon — places that don't usually get to enjoy this fabulous art form. Portland Story Theater has invited some of our best storytellers, like Beth Rogers, Warren McPherson, and Leigh Hancock to join us on tour. Visit our website regularly to see if your community has invited us to share our stories with you. And if they haven't ask them to invite us!
---
May The Narrative Be With You!®
Lawrence, Lynne and Penny

Portland Story Theater

Road Trip Photograph by Michael Mitti, Headshots by O'Dubhda